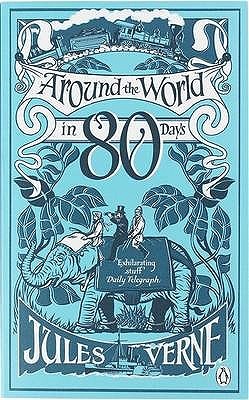 I was pleasantly surprised, when in the middle of reading this, I realized, I was actually starting to care for the characters more than I expected at first.
Mr. Fogg was really a gentleman although he was cold and almost as calculative as robot.
Passepartout was nice, a bit careless but nice. Even though his luck was bad, he meant well.
Aouda, hmm, I'm biased to female character, and she was the only woman appeared in this novel. I don't think I have to explain why I like her.
Detective Fix was… just… stubborn. Rather than dislike him, I think I should just pity him for trusting his initial instinct too much. He was a good addition for the plot. I won't try guessing which path the story would take if he wasn't there to be the spice.
Well, if I had to describe my experience reading this novel, I think it felt like falling in love slowly (and happily, mind you). You weren't enamored with them at the first glance. However, after befriending them, knowing them better, you couldn't help but care. Then, you started to root for them; you wanted them to be happy, as if their happiness had been linked to your happiness.
And the ending was just perfect.
My ship was sailing exactly as the story always hinted along.