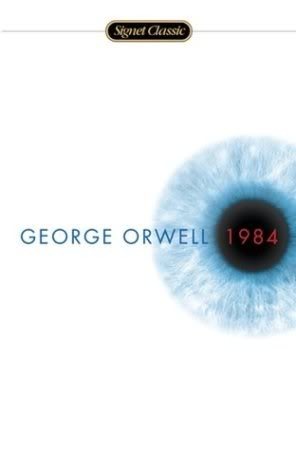 Setelah sekian lama menjamur di to-read list. Akhirnya beberapa minggu yang lalu saya selesain baca juga. Walaupun jujur, mungkin karena udah jamuran, atau emang saya nggak perhatian, saya baca 1984 tanpa tahu kalau novel ini bercerita tentang dystopia. Makanya sebelum-sebelumnya, waktu nyoba baca, saya selalu stuck di bagian… "Big Brother is watching you~ teehee~" part.
Ha? Big Brother? Who? Ini cerita soal apa sih?
Dan nyambung juga waktu kemarin akhirnya berhasil baca sampai akhir. Yah. Mungkin saya kurang konsentrasi pas baca sebelumnya.
Jadi… ini dystopia…? O.K.
Saya akui saya bukan fans genre dystopia. Bukan berarti nggak suka juga. Tapi saya bukan tipe yang bakalan teriak-teriak kyaaa genrenya dystopia kyaaa soo cool kyaaa (saya sendiri nggak tahu apa ada orang yang beneran kayak gitu). Saya belum pernah baca Hunger Games yang buat anak zaman sekarang adalah novel paling ngetren di genre ini. Saya juga nggak selesai nonton film Battle Royale gara-gara saya nebak nggak bakalan ada happy end buat semua karakternya.
Makanya, saya nggak heran kalau saya ngerasa setengah nyiksa diri baca 1984 sampai selesai. Ridiculously suram sampai bikin pusing kepala. Mulai dari motto ridiculous the party:
War is Peace
Freedom is Slavery
Ignorance is Strength
Sampai konsep doublethink yang bikin watdeheck. Setelah selesai mengenali dunia "1984" (yang tbh, IMO rada bertele-tele, muter-muter bikin tambah eneg. Apa mungkin ini sengaja buat menguatkan atmosfer kelam untuk pembaca? hhaa :v), seperti yang diduga MCnya ketangkep dan… mulailah cerita soal penyiksaan yang well… horror.
Endingnya juga as expected.
And it is fine.
Tapi ya… tapi… masalahnya… dari awal cerita ini dimulai, tokohnya itu udah berasa di titik bawah. Tinggal disentil dikit, dia bakalan jatuh berjumpalitan. Nah… setelah jatuh itu, terus dan terus dia ada di titik terbawah. Sama sekali nggak ada tanda kalau bakalan ada morning rescue (I'm sorry for the inside joke) yang bakalan muncul. Jadi pas akhirnya begitu pun… well… siapa yang heran *shrug*.
Karena dari awal saya cuma liat penderitaan dia tanpa sedikit pun adanya harapan. Waktu dia makin jatuh pun, saya juga cuma bisa ngeringis sedikit tanpa peduli apakah semuanya akan menjadi lebih baik atau nggak. Selain itu karakternya juga not really likeable. Oke, saya kasihan sama Winston, sama Julia karena nasib mereka emang bikin kasihan. Tapi ya… sebatas itu aja.
Anyway, di atas saya komentar kalau 1984 itu ridiculously suram. Alasan saya pake keterangan tambahan ridiculous adalah karena betapa stupidnya sebenarnya hal-hal tersebut—the party, motto, sistem doublethink dan penghapusan sejarah secara shameless dan terang-terangan tersebut. Kalau dipikir secara normal (iya, otak saya diwired berbeda sama mereka di cerita, karena lingkungannya juga beda, iya), apa ada manusia yang nggak ngerasa aneh?
Dengan kata lain, karena saya baca ini tanpa ada niatan untuk merelate atau mempercayai apa yang terjadi, kesannya jadi ridiculous. Iya, saya tahu hal-hal yang diceritakan di novel ini mungkin (dalam skala kecil, dan rahasia). Tapi ya itu.. rahasia. Saya nggak bisa bayangin mayoritas orang bisa sebegitu bego atau sebagian bisa sebegitu jahat. Makanya saya susah buat baca tanpa ngerasa kalau ini fiksi sekaleh.