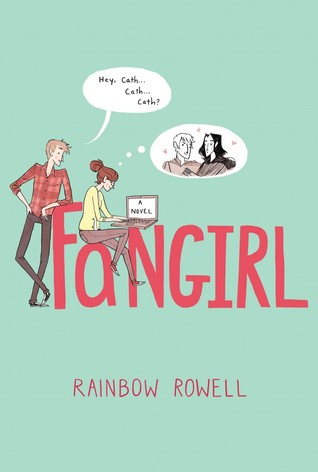 2.5 sebenarnya. Saya nggak begitu raeg pas baca novel ini. Dan mungkin bisa 3 bintang kalau aja saya nggak dipaksa baca fanfic DracoHar—uhuk, maksud saya Simon x Baz. Saya nggak gitu ngerti apa hubungannya dengan cerita utama, selain sebagai fanfiksi yang ditulis Cath dan alat buat nunjukin kenerdy-an dia. I mean… kalau pun bagian itu saya skip dengan senang hati, kayaknya saya nggak bakalan missing anything kan? Kecuali kisah Simon and Baz, of course.
Trus soal karakter Cath… dia itu cukup ngeselin. Dan bisa jadi banget dalam hal-hal tertentu. Bukan berarti saya nggak ngerti personality dia, kenapa dia melakukan itu, etc. Saya ngerti sebetulnya. Tapi karena saya ngerti, beberapa hal yang terjadi pada dia, dan reaksi dia kerasa lebih menyebalkan. She was actually pretty fortunate.
Sebagai contoh, saya cukup ngerti perasaan dia waktu di awal kehidupan kampus milih menghindari dining room di asrama dan makan err… calorie bar selama beberapa hari (atau minggu?). Karena itu setiap dia melakukan hal yang menurut saya ngeselin pun, saya selalu berusaha bikin justifikasi buat dia. Termasuk ketika dia dengan begonya ngumpulin fanfiksi sebagai tugas kuliah.
Tapi… saya nggak bisa bikin pembelaan apa-apa waktu dosen Cath ngasih kesempatan kedua buat dia nulis cerita sebagai tugas akhir matkulnya dan Cath nggak merasa grateful sama sekali. Udah dosennya ceramah panjang lebar, ngasih motivasi, dan memberikan perlakuan khusus untuk Cath… dia malah kayak anak kecil dikasih permen supaya mau ke sekolah biarpun telat juga tapi malah ngelunjak minta cokelat. Gimana nggak bikin kesel (apalagi dia bukan anak kecil)? Ditambah lagi, dia hampir menyia-nyiakan kesempatan tersebut demi fanfiksi. Trus meskipun Cath akhirnya bikin ceritanya beberapa hari sebelum deadline, setelah sebelumnya dikasih kesempatan satu semester (Prof, you were too kind, be my lecturer!) untuk nulis short story 10k words (eh iya kan? Saya lupa), cerpen dia dengan sangat magical bisa mendapat penghargaan cerpen terbaik buatan mahasiswa S1 atau sejenis itu.
Damn Mary Sue.
Kesampingkan soal Cath, ada beberapa plot yang… kok kayaknya tidak diselesaikan. Soal ayahnya yang rada weirdo (apa dia weirdo dari dulu atau karena cerai?). Soal Wren yang mabuk sampai hampir koit. Soal ibu mereka. Soal kenapa Wren tiba-tiba mau mulai komunikasi dengan ibu tersebut. Soal kuliah Cath (seriously, setelah semester pertama, nggak ada lagi cerita soal kehidupan kuliah dia kayak gimana).
I mean… dibanding ke arah mana cerita ini berakhir dan berjalan, saya sebetulnya lebih penasaran sama plot-plot itu. Not to mention, I can't care less about Cath and Levi's relationship or Simon and Baz's. Tapi ternyata scene lovey-doveynya banyak banget, bikin saya eneg. No. Please. Kalau kalian mau kissu atau flirting, nggak usah diceritain juga nggak apa-apa kan. Or at least, nggak usah sedetail itu. Ini masih di tengah cerita kan!? Gimme a break, please!
Or should I say: Riajuu, bakuhatsu shiro!!